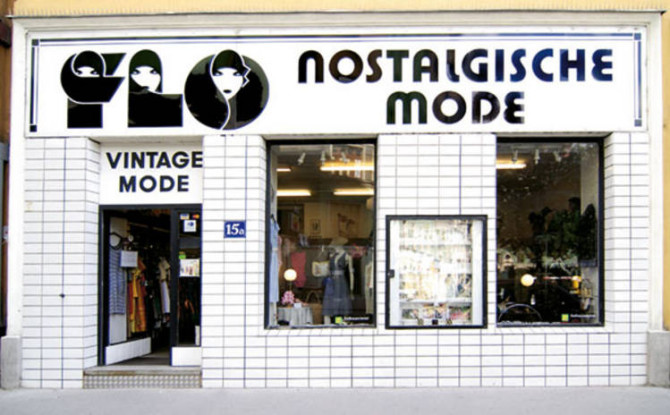 37 years FLO – The Story
Working for the Austrian Broadcasting Corporation some 37 years ago, FLO's proprietor INGRID RAAB was able to produce several movies surrounding the fashion-world. In locations such as Milano, London and Paris. During these productions she discovered some unique boutiques – trendy, stylish but nostalgic. Clothes for a time past, wearable and to be easily combined with contemporary fashion. She immediately was fascinated and inspired by such concepts, which led inevitably to the opening of her first store for nostalgic fashion – vintage in Vienna/Austria in 1978. 
Soon the broader public took notice due to an ever increasing media interest. Featured a numerous print media, radio and TV-Shows as well as special features INGRID RAAB soon made a name for herself and her store as a leading expert for nostalgic-vintage-fashion, worldwide.
Today FLO is one of the leading shops for nostalgic-vintage-fashion, worldwide.
All those years INGRID RAAB stayed true to her basic motto – «antiques with seams» and always made a clear distinction and disdanced herself from «second-hand».
Paolo M. Anderson (chief-designer for Chloe-Paris):
«I'm inspired by a woman who is the oppoite of drama, a woman who is effortless and uncontrived.»
In her cosy store in the famous Viennese art-district FREIHAUSVIERTEL – here was the premier of MOZART'S «ZAUBERFLÖTE» (Magic Fluite) directed by Mozart himself in 1791 – close the Naschmarkt one can find the most exiting, exquisite and original pieces from 1880–1980, such as pearl-embroided dresses of the Art-Nouveau or the Charleston period (1920), «The little black Dress» a la Coco Chanel and Audrey Hepburn as well as a large variety of the «New Look» of the 50's and the 60's style of Jackie O. In the category of the 70's and 80's creations of top-designers from A (Armani) – Z (Zegna) and even more, will get your heart bumping.
Of course you will also find all the necessary accessories such as fine lingerie, delicate lik stockings, nylons, Exquisite shoes and hats, handbags and all the matching adornements and jewelry, according to the various Periods as well as exclusive bathing suites (Jantzen!) from 1920–1970.
We supply all the important stages in Austria like Burgtheater … the international acclaimed festivals in Salzburg, also stages in Germany, Switzerland, Italy, movies and TV-productions as well as fashion exhibitions and museum collections.
FLO is also recommended by all renowes City- and Shopping Guides all over the world!
INGRID RAAB: My exclusice variety of about 5000 dresses, not even counting accessories and jewelry, is also regarded internationally to be in the first front. Regulars at my store are celebrities from the field of art, theater, music, film and show-biz and even top-designers as Marc Jacobs ( for Louis Vuitton, the most important company for luxury, worldwide ), also Helmut Lang, Stella Mc Cartney, Dries from Noten, Donna Karan, Escada, Strenesse …
The famous Louis Vuitton City Guide praises FLO:
«This place is heaven for vintage fans … discerning travelers will find the best of everything …»